For many students, the build up to Christmas is the first time to see and participate in some Christmas traditions that are different to what you do at home. Here are a few unique (and some slightly more universal) ideas of what you can do over the holiday period in Sheffield.
If you are in Sheffield Hallam university accommodation, then it can be nice to get together and make a Christmas meal together. This can be a really nice way to get together with those you might not see in your accommodation as much. You can either create a fund which everyone chips into for a big shop, or perhaps try a potluck where everyone brings their own dish, and just hope one of you brought the turkey. You can also guarantee all the key dishes are accounted for assigning them out to your guests.
If you didn't manage to check out the Peak District before winter struck, it's still not too late! The Peak District is packed full of lovely winter pub walks. These can be a nice excuse to do your drinking outside of the city under the disguise of a nice healthy stroll. You can also fill up your flask with liquids of your choice to go red deer spotting in the Derbyshire dales, and pretend they're reindeer for an additional festive rush.
If a walk in the Peak District seems a bit daunting, you can instead visit some of the parks throughout the city (Weston park is a personal recommendation), which are especially worth checking out when it snows. Be careful, because snowball fights can escalate quickly! Many of the parks will have local Christmas events on throughout the period as well, if you're looking for something more civil.
The city centre also has plenty to offer over the Christmas period. With some of the bars pulling out all the stops. Explore for yourself to find a scattering of rooftop bars equipped with log fires to keep you warm as you try and forget about how early it's getting dark. Or you can go and watch the city lights being turned on! The event is accompanied by a Christmas market full of  food and unique gifts, perfect for Christmas shopping (or Christmas dining depending on your preference). There's something for all in Sheffield throughout Christmas and it's a great time to start some new Christmas traditions.
It's Saturday, and what does it mean for me? Definitely not idling about doing absolutely nothing. Every Saturday is a very busy time for me with all the cleaning around the house I have to do. Today is not going to be any different as we have visitors coming to our home both tomorrow and on Monday. If you are in a similar situation, you might find those tips to be especially useful to you:
1. If the kitchen is where you will want to start, put special attention to your fridge and microwave as this is where a lot of hidden stains might be. You might not realize that they are there until you use a flashlight to illuminate them.
2. Ever wonder while your living room is so dark? I am sure it's not only to the gloomy November weather, but maybe it's because your light bulbs have not been cleaned in a while and could use some refreshing. Check if all the other light bulbs in your house work as well as you might not have noticed that some of them stopped working some time ago.
3. If you find that your house is too cluttered consider tiding up. There is no better time to do it than a dark Saturday as you are not missing out on a lovely walk in the Sun (unless you live in a warm place that has good weather all year round). If you are struggling finding enough space in your home storage units fresno can be of great help as this is where you should go in case your house is too small for all the belongings you have.
4. You might think that your walls are not that important but if you have ever seen a spider crawling up and down on your ceiling then you know that after all you cannot skip this important part of cleaning your house. Use a special tool to clean your walls and pay special attention to all the corners as this is where you are likely to find hidden spiders you did not even know existed.
There might be many situations in your life when you might want to hire a storage facility similar storage units Southlake. Here are a few examples when you might want to do it:
1. When a new baby in your house is born. We all struggle with space when we have small kids. All those prams, cots, and baby stuff take a lot of room, not to mention all the toys that your children want to play with. Getting an extra room in the form of a storage facility can be a life saver.
2. When you want to downsize. If this is what you choose to do, hiring a storage unit might ensure that you will always have that extra room to store whatever you don't want to have at home. Having a storage unit close to your home can mean that you are free to drop by and take a few items from there while leaving some of them there.
3. When a relationship is broken. It does happen from time to time, and you should assume that you too might fall victim to it. If you are forced to move out and don't have a good place to go, hiring a reliable storage facility might be a great idea that will take some of the stress off your shoulders.
4. When you are about to retire. A lot of things change when you are no longer required to work. You might finally want to renovate your house, and in order to be able to do so you might want to use some tools that you will only need from time to time. All hobbies that you never had time to engage in are finally ready for you to explore them. A lot of them will require you to have some stuff, like when you want to choose to do more gardening you will need more stuff that cannot be stored in your garden during winter months.
5. When somebody you love passes away and you don't want to part with some of their belongings due to sentimental value they hold.
There might be many situations in your life when the number of people living in your house is going to increase. I am not only thinking here about expecting a baby, but maybe for some reason one of your parents wants to move in with you, or your young son or daughter are coming back for the summer from university. There might be a few ways to handle the change of circumstances:
1. Buying a bigger house can solve all the challenges related to welcoming a new family member under your roof. I understand that this solution might not work for everybody as it is often easier said than done. If buying a house is not an option, you might be forced to look at other, alternate solutions to the issue that might involve other steps to take.
2. When looking for extra space for your belongings, it might be wise to consider storage units San Diego as a way to temporarily or permanently store your belongings in case nothing else has worked out for you. One obvious benefit of such storage facilities is the fact that you can terminate the contract at any time that is convenient for you meaning that you don't have to make any long-term commitments as most storage facilities allow for short-term contracts you can cancel any time you wish. If you no longer need the extra space that storage units can offer somebody else can take advantage of them and store their belongings in there.
3. One last resort is looking for extra space in your garden. You might want to be extra careful though as any item you store in your shed can get destroyed due to humidity. One plus of your house and storage facilities is that they are fully climate controlled, which means that they offer perfect conditions that prevent mold and rust from happening, something that plagues so many sheds where items are left to deteriorate. If you are serious about any of your belongings, you might want to keep them in the best place possible, somewhere where nothing damaging is going to happen to them.
Your name is a vital part of your identity. It is the way that you perceive yourself and also how the world knows you.
As such, there is a lot to think about when changing your name after getting married. Here are some tips to make the right choice for you.  Use this LegalZoom coupon to save 10% on all legal name change services.
These days the social rules have changed and you can change your name to almost anything.  Ask other newly wed women to share their experiences with their name changes. So if you are not sure whether or not to take your husband's last name read on to discover good name change options.
Choices for Name Changes after Getting Married
Keep your maiden name
This is the easiest choice because you do not have to do anything. This is the name you were given at birth and you will continue to use it after your marriage for all your official uses such as Social Security.
If you have a professional reputation built on your current name it can be wise to not change your name after getting married. Examples of people who should not change their name include writers, artists and business executives which would lose their business reputation by changing names.
This is especially important today when potential employers often search online prior to interviews and if your new name will not display any of your prior portfolio items done under your maiden name.
Take your spouse's last name legally and keep your maiden name professionally.
This is following a traditional custom in your personal life while also maintaining your career under your given name. It's very common to have these dual identities for professional women.
Make your last name to your new middle name and take your spouse's last name
This is a very popular trend. Here you would simply add on to your name your new spouse's last name. This cuts down on confusion between your professional identity and personal legal last name. Because all your names will be together as one long name.
Changing your middle name in certain states, California, New Jersey, New York, Ohio, Pennsylvania and Washington – will not be allowed to follow the standard married name change process. Instead you will have to purchase a legal name change and pay additional expenses.
Create a new last name for husband and wife.
Putting the two last names together of husband and wife to create a new family last name using a hyphen – or not, is a common and serviceable solution. Many female entrepreneurs utilize this technique of name change after marriage.
You can even develop a brand-new last name and both husband and wife can use this new legal family name. Your children will inherit the last name that is legally valid at the time of their birth.
Take your husband's name
This is the traditional route for newlywed women to change their last names to their husbands.
Know that if you choose this option you need to begin by requesting a certified copy of your marriage certificate from your states department of health.
The easiest way to change your name is to use a professional service such as LegalZoom name change services.
If you choose to do it yourself you need to order multiple certified copies from your state office and pay a fee.
Then you will have to get a new Social Security card by filling out forms and nailing to your Social Security office along with certified copies of your marriage certificate and identification documents.
Once you send in all this paperwork properly completed with the associated documents it will take approximately two weeks to get your new so security card.
You also have to get a new drivers life and update your voter registration too. Each state has different rules.  Check with your local DMV and State name change rules.
This can be a complicated process and that is why I recommend purchasing a low-cost legal service from LegalZoom.
Also don't forget to notify your employer.your name change because your income taxes need to be reported on your new name.
These days wives are not the only spouses to consider changing names. Many newlywed husbands have chosen instead to take their wife's name.  In some states the newlywed husband who wants to undergo an illegal main change needs to petition the court and run ads in local papers which can cost up to $500.
Another document you need to update is your passport. This is especially critical if you booked your honeymoon using her maiden name and then will need to show your ID to board the airplane. As such I recommend you wait until you return from your honeymoon to change your passport and driver's license.
We all want our family members to feel comfortable and safe in our homes. This is sometimes easier said than done, but there are some ways to ensure that everybody in your house feels at ease and relaxed. No matter how old or young your family members are, below you will find a few ideas that will help you to make your home family friendly:
1. Try to renovate something in your house at least once every few months. This way nobody will get bored with the old decor. It is proven that people react very well to change as otherwise they might become even depressed if there is no enough change in their lives. If you haven't changed the decor of your child's bedroom in a while, chances are that your son or daughter has outgrown it. Keeping all of the details, even the smallest ones, in your house up to date will give you the sense of accomplishment that you might have wanted for a long time.
2. If somebody in your household cannot find something and it happens more and more often, it might be a sign that you need to de-clutter your home. If this is the case, you will find storage facilities such as public storage staten island to be of extreme help to you, something you should not underestimate. Not only are they easy to use, an average facility is climate controlled and should allow you to gain access to it at all times, or even those family members whom you trust and whom you wouldn't hesitate to give access as well. Most storage facilities these days are modern ones with a lot of useful features that you might find interesting.
3. Take things slowly. Don't spend every minute in your house if you don't have to. There are many other things one can do outside of their houses. There are many great places to visit, and many fun activities to engage in. If this is something you want to do with your family members and you know that you are likely to enjoy, grasp at the opportunity and you will see how rewarding it can be in the end.
As the host of a major festival, it falls to you to put together a celebration that people will remember for months or years. You may already have the food and beverages decided upon and ready to go. However, you still might need to book a group to keep the crowds entertained. By hiring an organizer, zoning commission, or event planner Manhattan hosts like you can put together a party that will be fun and memorable for years at a time.
Putting Together the Venue
One of the first things you have to decide upon is where to actually hold the party. You may need a space that is big enough to hold hundreds or thousands of people at the same time. With that, it might occur to you to hold it in an outdoor venue like a soccer field or football stadium where you can control the people coming in and out at the gates and also take care of security needs.
The party planner can find the perfect venues for you to host the celebration in your area. He or she may then be able to find out and help pay the deposit needed to reserve the location.
Deciding on the Music and Fun
After you reserve the venue, you then must think about what kind of music and fun to reserve for the celebrations. You can hire a deejay to play music for the crowds. You can also hire a band or singer to perform for the people who will attend the event.
When you browse the website, you can find performance groups that are used to playing at a variety of places including sporting arenas, country clubs, and other locations. Based on the information on the website, you can decide what group to reserve for your party. You can be assured that the sound will be good and people will appreciate the music being offered there.
Party planning can be a simpler process when you get help. You can hire a planner who can help you handle many of the more complex tasks.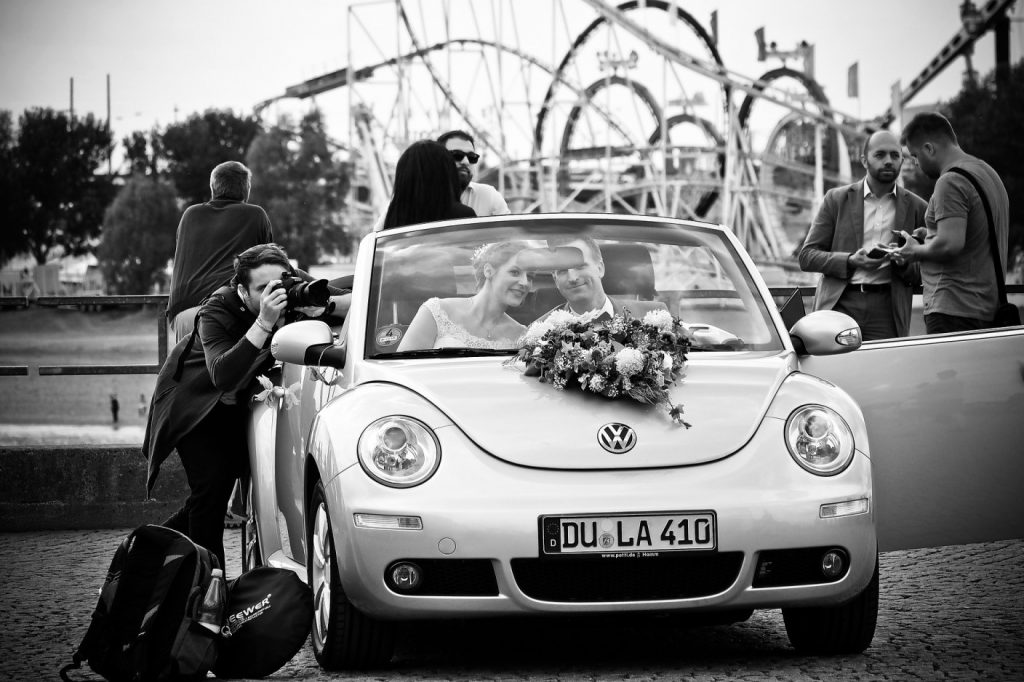 When you are planning your wedding, there are many vendors and suppliers who will all contribute to making your special day a truly memorable one – from the wedding venue to the caterer to the florist, the baker, and more. But when you think about it, there's one vendor whose work will be with you for years and years: your wedding photographer.
The wedding photographer is tasked with documenting your entire wedding from start to finish, and years after the event, you'll still be looking at your photos and smiling, remembering that magical day. But if you don't have a good wedding photographer, your memories could very well be ruined. This is why it's vital to choose the ideal wedding photographer. Here's how you can best choose the perfect wedding photographer for your special day.
Their beliefs and principles
This may sound a bit too heavy, but think about it: would you want a wedding photographer who doesn't really believe in what you believe in when it comes to weddings and marriage? You want a photographer with whom you can relate and with whom you can work with. What are they interested in? If you look at their 'About us' page on their website, can you get a better idea of their beliefs and principles regarding weddings and marriages? It's a good way of getting to know a photographer, and if you feel that some of their principles and beliefs are a good fit with yours, then it's easier to give them a try.
Your impression
Once you've narrowed your list and come up with several wedding photographers, it's time to set an appointment with them. If the appointment can be done face to face, that's perfect, but if not, you can always arrange a Skype meeting. When you meet them and speak with them, what is your impression? Do you think you will like them? It's not necessary for you to be BFFs with your wedding photographer, but liking them enough to work with them on your wedding day counts for a lot.
Check recommendations and reviews
All photographers have different specialties, and most will have their strengths and weaknesses. Not everyone is perfect, but what you can do is make an assessment of a photographer's weaknesses and decide whether those weaknesses will really affect your desires on your wedding day and afterwards. You need to weigh their strengths and their weaknesses so you can have a more realistic expectation. Apart from this, it would be good to check for recommendations and reviews. Speak to past clients if you can, and check online for any reviews about the photographer.
What's important is to get a photographer you can work with and trust to deliver the best photos (and memories) of the best day of your life.
Image attributed to Pixabay.com
I am sure that I don't have to convince anybody that massage has many health benefits. Those who experience it first hand are very likely to agree with me and you will know what I am talking about here if you receive massage from time to time. Here are three most common benefits of massage, although there are a lot more of them and I won't be able to cover them all in this post:
1. Massage prevents and heals depression and anxiety. It is proven that those who get regular massage report higher levels of serotonin and overall increase in well being. Physical improvement goes hand in hand with this as your body gets to experience something relaxing and rejuvenating. Massage is especially beneficial after working out to reduce muscle soreness as well as various pains and aches resulting from physical activity.

2. Massages including Massages Reading are guaranteed to reduce blood pressure. Many of us struggle with elevated blood pressure due to various factor such as stress, unhealthy diet as well as lack of physical activity. One way to remedy this is to do so with the help of regular massage sessions.
3. Improved circulation. If your hands and feet often feel cold and achy, it is a sign that you suffer from poor circulation and should tackle the problem. Rather than try other techniques that are meant to solve this problem, it is a good idea to invest in regular massages.
As you can see, the benefits of massages are cumulative and are not limited to one area only. If you have been struggling with a health issue for many years and have not been able to solve it, chances are that you might be able to do it with the help of massage. Try to find a therapist that works for you and with the help of whom you will be more likely to overcome various health issues. After all, investing in your health is one of the best investments there as there is no price you can put on your health. Health is something that allows you to live your life to the fullest.
There are many careers that people can choose to have in this world. Some of them are related to politics, others to entertainment and others are related to beauty and aesthetics. Cosmetology is part of that last category and there is no question that millions of people all over the world have been getting the benefits of going to cosmetology experts for their needs, and others have seen a huge benefit from attending cosmetology schools.
Today, we are going to be reviewing the most important and useful programs in cosmetology schools and the knowledge that people can expect to learn from them. There are many different locations that offer a large number of options to people who want to get a proper education in the business.
Cosmetology Classes
This is one of the most popular programs for people to study because it covers a very broad number of topics. Those who want to learn the basics and the essentials of makeup, hair, skin and nail care are going to find this to be very useful. It can be considered the backbone of any cosmetologist for education and to start developing their skills in this industry.
Some of the most common classes given in this particular program include advanced hair cutting techniques. Intermediate facials and the steps to do them properly. The process of manicures & pedicures. Chemical texture and all that surrounds the subject. Ethics, communication skills and management. Hair coloring and the process of doing this without damaging the hair or scalp. Shampooing and conditioning, and all kinds of safety and sanitation precautions.
There are different salary expectations for cosmetologists, but the growth on the value of cosmetology as a service goes up day by day. There are many things that need to be considered, such as the situation of the cosmetologist as an employee or as a business owner, but this can be a very profitable career without a doubt.
The cosmetology certifications are also going to play a major role in some states, but there are other areas that have very little in terms of requirements for those who are involved in the business of cosmetology. This will also depend on the location and the services provided.
A Cosmetologist is someone who has proper knowledge of every area of the profession, and this makes them a truly reliable source of information for anyone who wants to learn as much as they can about the different services and the expectations they can have.
Esthetician Education
An esthetician school is going to be able to provide you a more focused type of education when it comes to certain aspects of cosmetology. This is not to say that some of the brad basic of cosmetology are left behind, but this particular program focuses on things such a facials, waxing and exfoliation amongst others. Some of the courses that people can expect to learn in this program include LED therapy, waxing services and all of their different approaches, exfoliation, glycolic wash, facial massages, skin anatomy, medical terminology and facial paraffin.
This is one of the most common programs in cosmetology schools that people choose when they are looking to work at salons and spas. The number of people who get jobs in this field is huge and there is no denying that you can achieve great results and build a sustainable career in this field.
Makeup Artistry
There are very few skills in the world of cosmetology that can be as exciting and unique as makeup. The truth is that this is one of the most promising side of the industry for anyone who is looking to develop a professional career. Makeup can be something that people do in salons, but it has become an even more powerful and reliable source of income for those who work in the entertainment industry.
Do you wonder how you become a makeup artist? The number of jobs that you can get if you are a skilled makeup artist is truly incredible. This make up courses include weddings, special effects, theater, male and senior makeup, seasonal makeup, safety & sanitation and the fundamentals of makeup artistry. Once a person is able to understand all of those important and relevant aspects of the profession, they will be extremely well-rounded and they can get a job in any of those particular fields.
The possibilities and salary expectation of a makeup artists depend on the kind of job they can get. The truth is that there is massive potential for great earnings, but each person needs to showcase their skill and professionalism in order to be able to achieve the best results in marketing.
Hairstylist Training
The hair is one of the most important aspect of style for many individuals. This means that they are willing to pay a good amount of money to ensure that their hair looks great. One of the main things that any hairstylist program needs is to ensure the right kind of education for the fundamentals of hairstyling. Understanding the process of coloring and grooming is crucial, but making sure that you can also make proper use of the facial features of each person to provide the best hairstyle is also going to be extremely essential.
The most common courses that people can expect to find in hair design, color theory, advanced haircutting, men's styles, permanent waving, management and saloon ownership and marketing products in order to boost sales further.
This is one of the reasons why a large number of people are choosing the hairstylist career. It's always going to be on high demand and it will always require that people learn the skills necessary to fill the many job positions in this particular industry.
A professional hair stylist can make a very substantial amount of money in this industry. There are many different job positions that people can fill when they are looking to make a living as hairstylists. This is why it has become such a great option and such a common choice.
Nail Technicians
The process of getting the best looking nails requires vast knowledge on how to take proper care of them. Nail technicians are always on demand at salons all over the world. This is one of the most common things for women to ask to get. There is nothing more valuable and important than being able to get the job done properly in order to see the best possible outcome.
There are quite a few courses that people can take in this particular program. These courses teach skills like gel art and sculpting, acrylic nail application, manicure techniques, pedicure techniques, cosmetology techniques and foot & ankle massage techniques.
The expected salary in this kind of profession is not often as high as other cosmetician trades, but it's still a very good job for those who are looking for a faster way into the industry. The need for professional work in nail care is huge and this means that there are always job openings available.
The certifications and requirements to do this job are often depending on the location, but most people can rest assured that this is not going to be an issue in their area. Still, it's always a good idea to check just in case.
Barbering School Requirements
The level of skill and knowledge required for proper barbering to be provided to people is very high. There are way too many people who look for a barber that can give them a very clean and smooth look and this is most often achieved by people who go into master barber programs.  The modern male client is looking for very sophisticated looks and this often means that the barber needs to have extra knowledge in order to achieve the best possible outcome.
Some of the skills learned in barber school classes include hairpieces, shaves, barbering laws, fundamentals, safety / sanitation, and haircuts & style. The regulations and the certifications needed for barbers will be different for each area, so the most important thing to consider is to check your local requirements in order to avoid any issues.
The potential for earnings in this profession is huge and men are always going to want to have their beards properly groomed for all kinds of occasions. There are also different kinds of license and requirements needed for this skill in some areas, so this will depend on your location.
Massage Therapy
We are living in very hectic and stressful times and there is no denying that everyone wants and needs a massage every now and then. The demand for massage therapists is constantly growing and there are way too many people who are in need of these therapeutic massage sessions in order to relax and to get rid of that damaging stress.
The most common massage therapist program curriculums will include a wide range of topics that will allow people to see much better results. This includes deep tissue massage, Swedish massage, reflexology, chair massage, aromatherapy, integrative massage, hot stone, shiatsu, sports massage, rolfing and reiki. These are all services that are constantly requested by people all over the world.
The job outlook for massage therapists is quite large and there is a very large demand for this in large cities and in places where stress and hectic lifestyles are so common. This is why cosmetology schools are getting so many people who are asking to learn massage therapy instead of any other skill.
The need for skilled massage therapists grows larger with the number of people who are displaying serious health issues caused by stress. This is why it has become so important for people to be able to get this kind of service in order to continue their daily activities without such a load of stress. This is a health problem that can definitely be solved and avoided with relaxing massage therapy.
There are all kinds of different regulations and requirements for massage therapists that depend on the location of each therapist. The best thing to do in this kind of situation is to find out which regulations and laws are requested in your area. Most massage therapists are required to carry certifications in some areas so be sure to find out before you start offering your services.
Deciding Which Program To Enter?
Some people want to learn as much as they can about cosmetology before they look for a job. Then you have others who want to get a job as soon as possible, so they look to learn the fastest programs in order to hunt for a job as soon as possible. There are positions in barbering, in esthetician jobs, massage therapy, makeup artist projects and nail design. The important thing is to consider your needs, your skills, your options and your availability. These are all things that will help you make the right decision.
There are always some considerations based on your personal taste in the services that are provided in cosmetology. Some people are more interested in learning all about makeup and others prefer to learn about hairstyle and or skin care. The decision is very personal, bit the amount of money earned in each of those services is different and depends on several factors that need to be considered.
Final Thoughts
The world of Cosmetology continues to be an extremely profitable and reliable way for people to make a living. This can be a lifetime profession and there is no age limit or gender preference as long as the person is able to do the job efficiently. This is the reason why so many Cosmetology schools offer great programs that help people learn the required skills in order to be of this industry.
Keep in mind that this industry is like any other in the sense that your ability to work hard and work smart will be a great determining factor for you to see the results you want. This is a very exciting profession and those who are driven and committed are going to see some amazing results from working in this industry.