So 2017 has brought us quite a few different new ideas for making our homes more beautiful.  In the homeware and fashion game, we need to look forward into the future to these 5 big trends that will be BIG in 2018!
1 /Tropical leaf prints are going to be big in 2018!
'Inject a touch of the tropics to your home with leaf prints such as palm and swiss cheese plant (monstera deliciosa),' says Twelo's interior style advisor Suzie Enley. 'Use modern tropical wallpaper to generate a 'wow factor' look or use more simplistic leaf prints to keep it more subdued and natural.'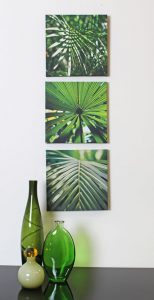 This is another example based on the tropical leaf theme. The colours of the jungle! Can really bring a rom alive and do not have to be mega expensive. With some creativity you can put together a stunning feature room based on a tropical theme for a very reasonable amount of money!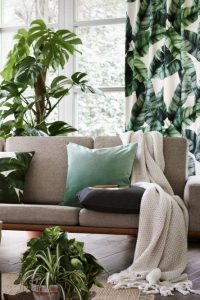 2/ The vintage look.
Vintage sheik is making a strong comeback and will continue to grow in 2018. It does of course depend to some degree on the age and style of your property as to the style of home you create.  Having said that a mixture of modern and classic furniture and décor can tie a house together beautifully if done well as this guide aptly shows http://www.twelo.com/blog/traditional-furniture-mix-match-modern-ultimate-mega-guide/
The image below is a great example of modern and vintage combined seamlessly in a modern/period bathroom
Or this bathroom which actually looks victorian but is actually using repro vintage bathroom suite items and 'new' old tiles.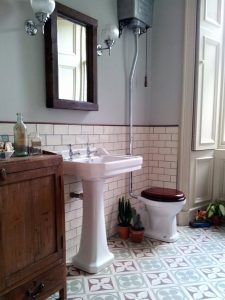 Lastly, this amazing 60's style kitchen just oozes style and class!!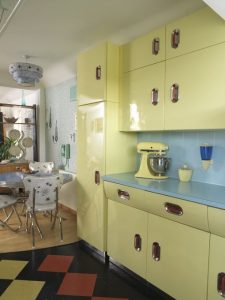 3/ Amazing fish tanks
This is one of our favourites but it does come with a disclaimer!! Tropical fish take serious effort to care for and also knowledge, so scaling down aspirations from the grandiose installations shown here may be wise so you can find your feet in the fish keeping world!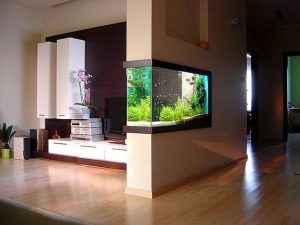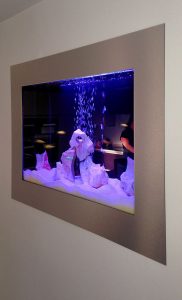 This type of installation takes planning, possible structural works (for example bricks may need to be supported with an RSJ), planning for how a tank will be cleaned and fish will be added and removed etc
Regardless of the tricky logistics it undoubtedly makes a stunning centrepiece for any design focused home.
4/ Techno Furniture!
This is undoubtedly going to become more prevalent as we move into 2018 and onwards. Technology is only going to be more involved in our daily lives and integrating it into furniture is going to become more and more commonplace. For example iphone chargers built into bedside cabinets and tables, RJ45 network sockets integrated into tables with concealed cable routings and lots more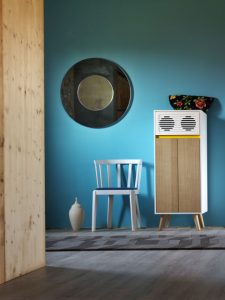 5/ Wood effect ceramics
Growing in popularity all the time is wood effect ceramics. Ceramics offer a number of benefits over real wood but also come with potential drawbacks. For flooring tiles are infinitely more durable if laid correctly and are also water resistant if the correct grout is used. This combined with the amazing ceramic designs and shapes now available means you can create a stunning centrepiece for a home with almost unlimited choices available in designs!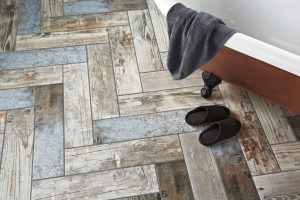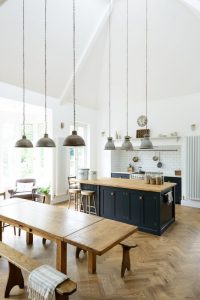 One thing to consider with wood effect ceramics, particularly for flooring is that by nature it is a cold surface, where as wood is a warm characterful material. So for many applications underfloor heating is a must unless you want a cold feeling room! This can be using electric heat mat or the more involved piped underfloor heating. Either way, floor temperature needs to be factored in before doing a huge wood effect tiled floor!